For 10 days you will be riding the Andes mountains and the chanels of the Pacific ocean to have a close view of one of the most beautiful parts of the world.

Next Tour / Or any time that you want on our Self Guided Sistem Ride+Rest
Best of North Patagonia
Truck Supported
Read More
Avaibale as
Ideal for
TWOup
Asphalt/Gravel

Self guided
recomended
-Tour
-Ride+Rest
-Rental
-4×4
YES
70 / 30
YES
Best season
Number
of days
Countries
included
Rider Skill
October
to
April
10
Chile
Argentina
Medium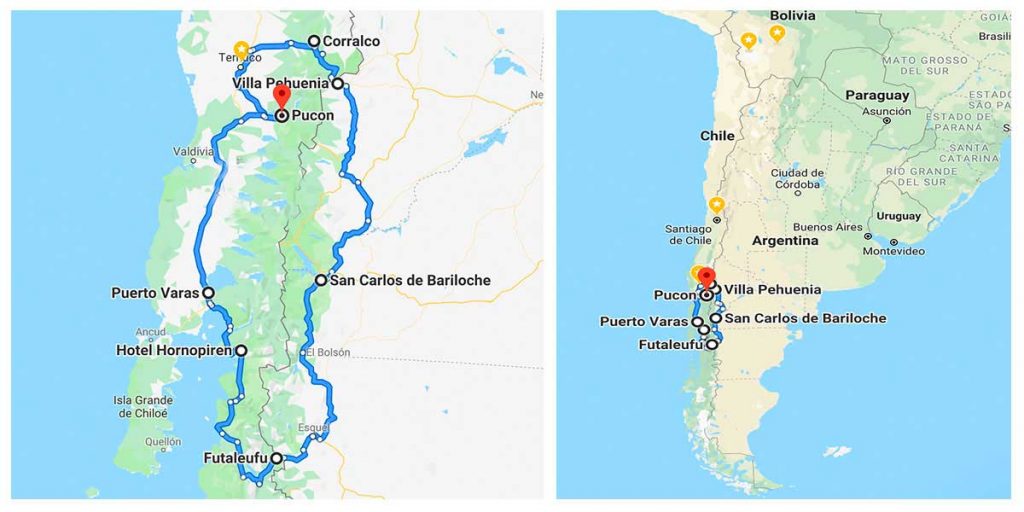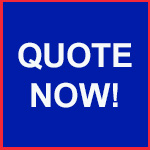 Full Tour Included
Pricing
Full Tour Included
Best of North Patagonia

Full Tour Base Pricing US$xxx
Self Guided Tour Base Pricing US$xxx
*on Honda CB500X
.
Tour Includes:
+Motorcycle rent with unlimited kilometers
+Accommodations in nice 3-4 star hotels/guest houses
+All breakfast and 2 x dinner
+Support vehicle with bilingual guide/driver
+Basic mechanic service by guide/driver
+Tools, tire repair kit, spare parts
+Satellite phone in support vehicle
+All bikes with basic crash protection
+Tank bag and/or pannier
+International liability insurance
+All border crossing documents if needed
+Specified RoadBook and map
.
Also avaible as Moto+Rest
(Self guided, Road Book, all Hotels Prepaid,
and Technicall Support over the phone)
Pricing
Select the Motorcycle of your preference.
All our bikes came equiped and ready for the routes with no limit of Kilometers/Miles
| | | |
| --- | --- | --- |
| Motorcycle Choice | Guided Tour us$ | Self Guided Ride+Rest us$ |
| CB500x | $xxxx | $xxxx |
| BMW f750GS | $xxxx | $xxxx |
| BMW f850GS | $xxxx | $xxxx |
| Honda Africa Twin | $xxxx | $xxxx |
| BMW R1250GS | $xxxx | $xxxx |
| Pillion (passanger) | $xxxx | $xxxx |
| Extra for Single Room | $xxxx | $xxxx |
| Full Truck | $xxxx | $xxxx |
*the bike of your preference have to be confirmed via email

**Limited disponibility of bikes per model. 

(check our rental page for motorcycle equipment)
Day 1- Arrive to Pucón
Enjoy the capital of Chile while you arrive in Santiago.
We like to welcome you in Pucon or at our shop to deliver the bike and finish the paperwork for your Patagonia adventure.
For our Tours, riders have to be in Pucon the night before because we depart early next morning and of course you don't want to miss our information meeting and welcome dinner.
For riders with our Self Guided Tour System, your hotel is included in the package, enjoy your room, rest and call us to coordinate your bike pick up.
It's a one hour drive with the airport shuttle to the cute town of Pucon at the base of Vulcan Villarrica and Lake Villarrica with all the services a stroll away.
Your intra-Chile flights can be booked through www.latam.com or www.skyairline.cl or www.jetsmart.com
Santiago airport (SCL)
Temuco airport (ZCO)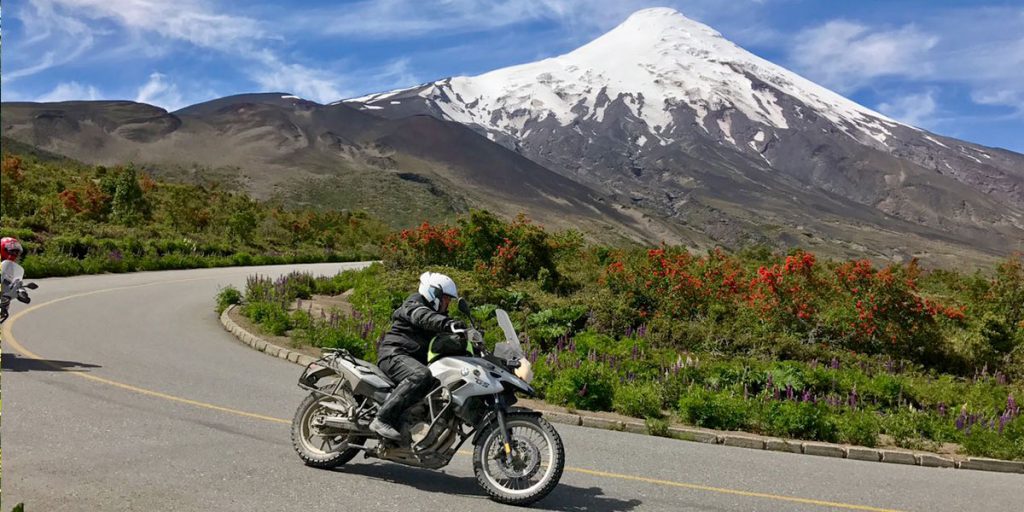 Day 2- Pucón, Chile to Curacautin, Chile – 270km
After you received your road book with all the hotels and roads to ride, have your bike set up for you and a detailed briefing about the sides roads precousions and general conditions you will leave Pucon.
You are going to cross 4 lakes and the beautiful National Park Conquillo # the land of the dinosaurs#.
After you saw the surreal and agent landscape of the road to Vulcano Llama you will hit the asphalt again and get to the beautiful Valley of Coralco to see the Vulcan Lonquimay and stay for the night.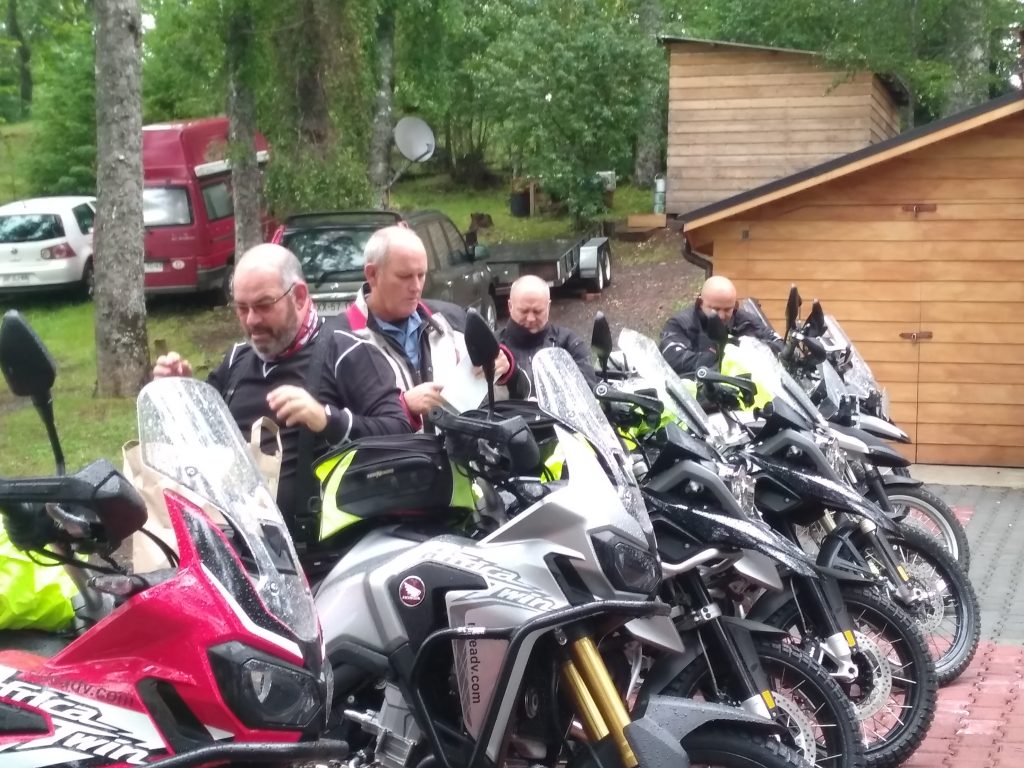 Day 3 – Curacautin, Chile to Lago Alumine, Argentina – 180km
Waking up looking up at the astonishing Vulcan Lonquimay you will go to forest to the first border crossing into Argentina. Your hotel overlooking the lake Alumine invites for a rest after a great day of riding. For dinner enjoy the argentinien beef.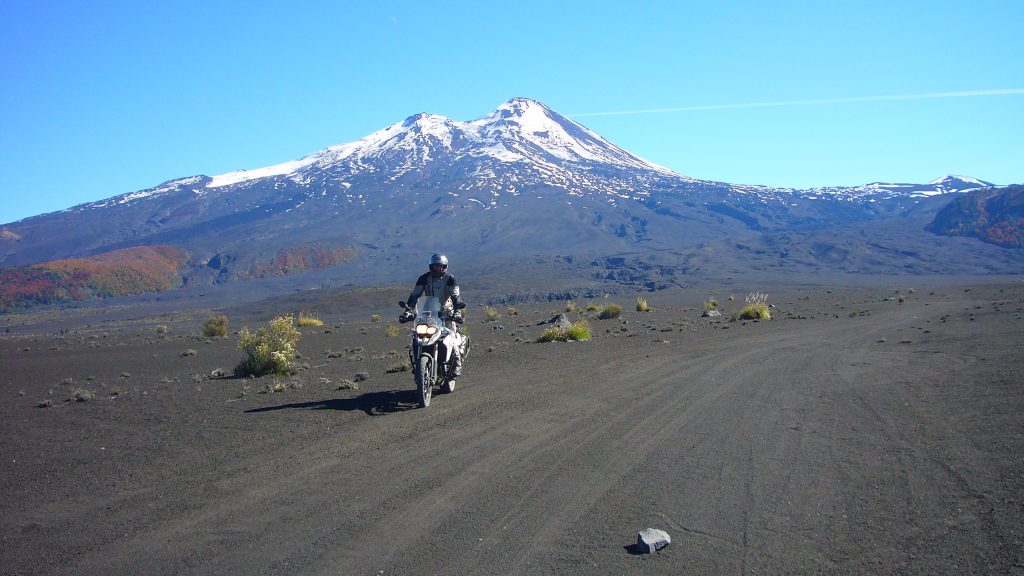 Day 4 – Lago Aluminé to Bariloche, Argentina – 350km
While you riding the road you get an idea about the emptiness of the Argentinien Pampa but here the Pampa change very quik to deep forests and Mountains. Next stop is cozy town San Martin at the base of the Andes.
Now you ride the breathtaking 7 lake road to Bariloche. Stops for fotos are inevitable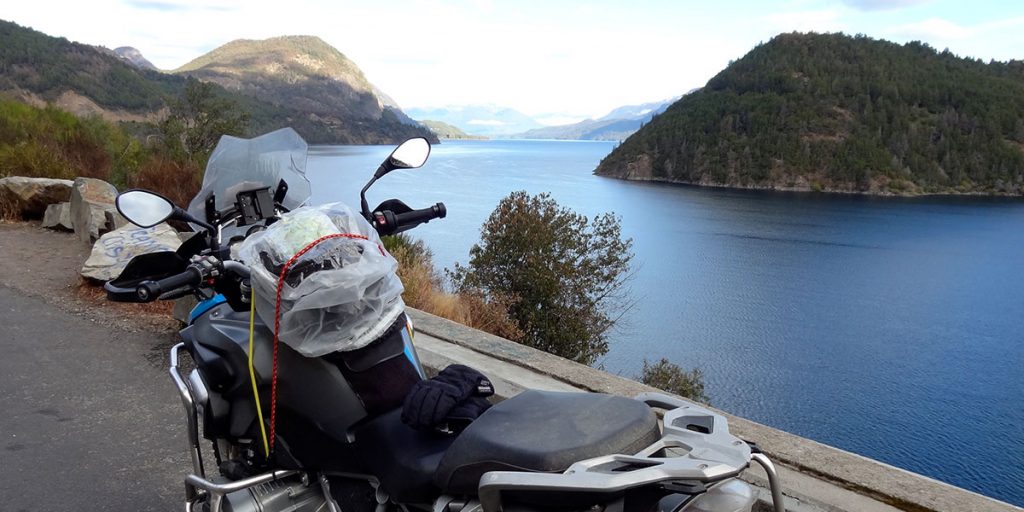 Day 5- Rest Day in Bariloche, Argentina
Enjoy your day in South America capital of chocolate. But if you still want to ride there are plenty of roads.
*You Rest day could be also in Futaleufu where you can enjoy world class 5 ++ rafting at the river Futaleufu.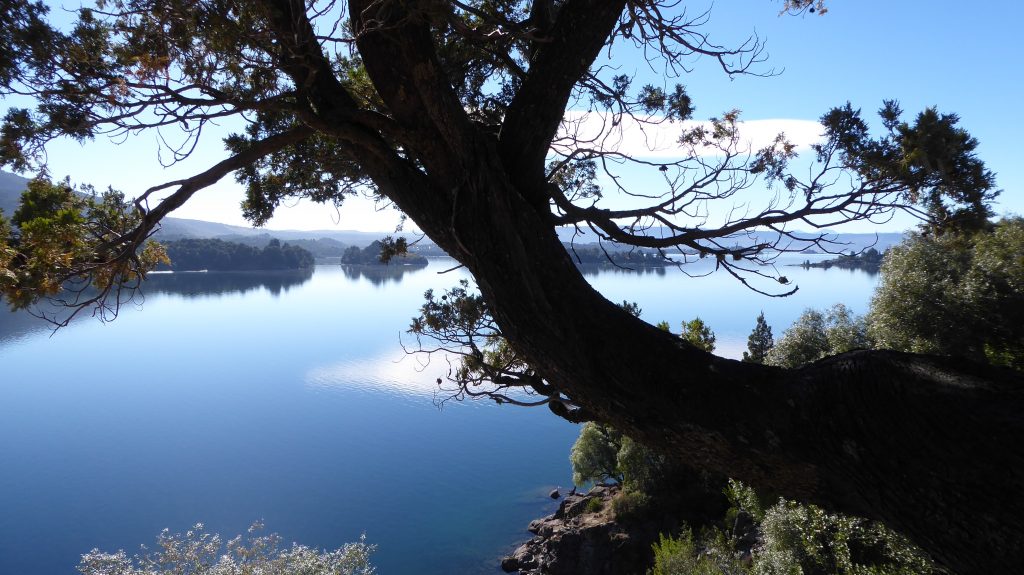 Day 6 – Bariloche, Argentina to Futaleufú, Chile – 360km
Start your riding day with the "Circuito Chico" and than hit the world famous Route 40. After rcossing the town El Bolson "Hippy Community" you will get to the National Park " Los Alerces" where you can see agent trees that are almost the same age as the Sequoia in California. You will finish the day with a border crossing to Chile. Futaleufu is waiting for you.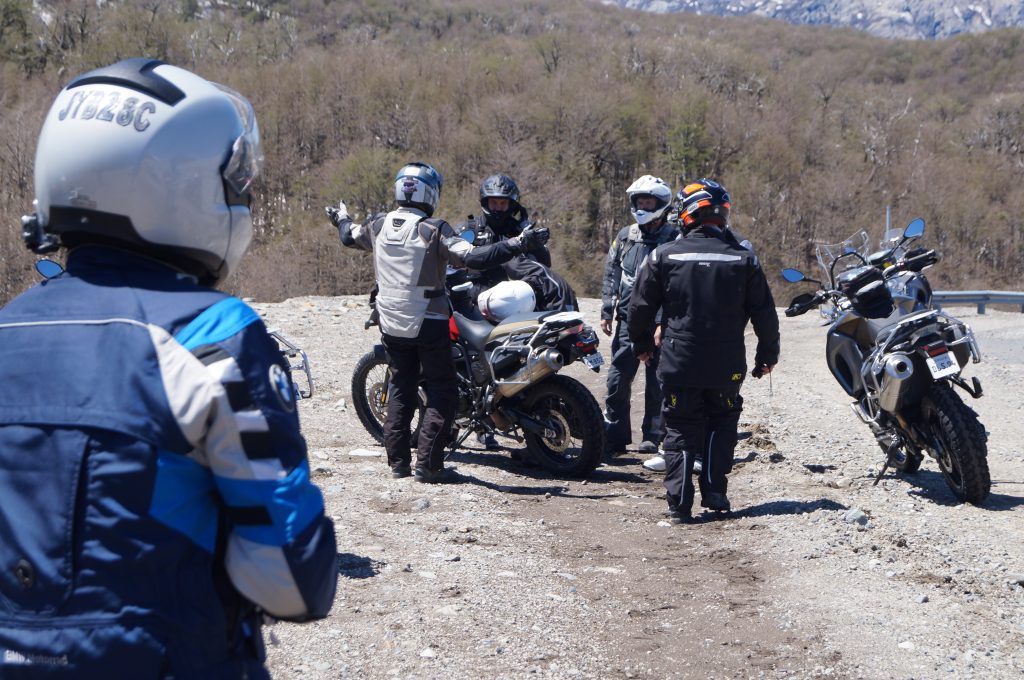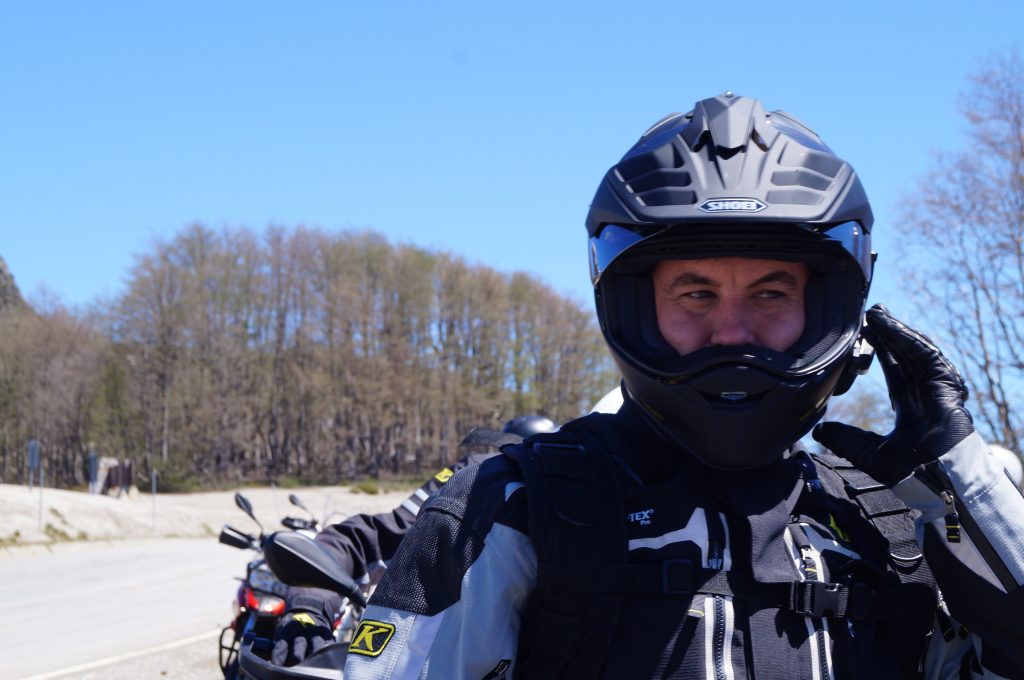 Day 7 – Futaleufú to Hornopiren, Chile (with 2 ferries)
Today the gravel road follows the whitewaters of Rio Futaleufu and the Sierra la Ventana. Just past Lago Yelcho, you'll reach the world famous "Carretera Austral," and some of the most picturesque scenery in the world.
Riding through Parque Pumalin, owned and preserved by the late Doug Tompkins, founder of the North Face clothing company, more interesting history and status of Patagonia will be revealed. After stopping in Chaiten, the town that was destroyed at the 2008 volcano eruption, take the ferry to Hornopiren where suddenly you're on the seawater of the Pacific Ocean!
Two scenic ferry rides will take us through the Reñihué and Coman Leprepu Fjords, a major center point of Chilean salmon farming.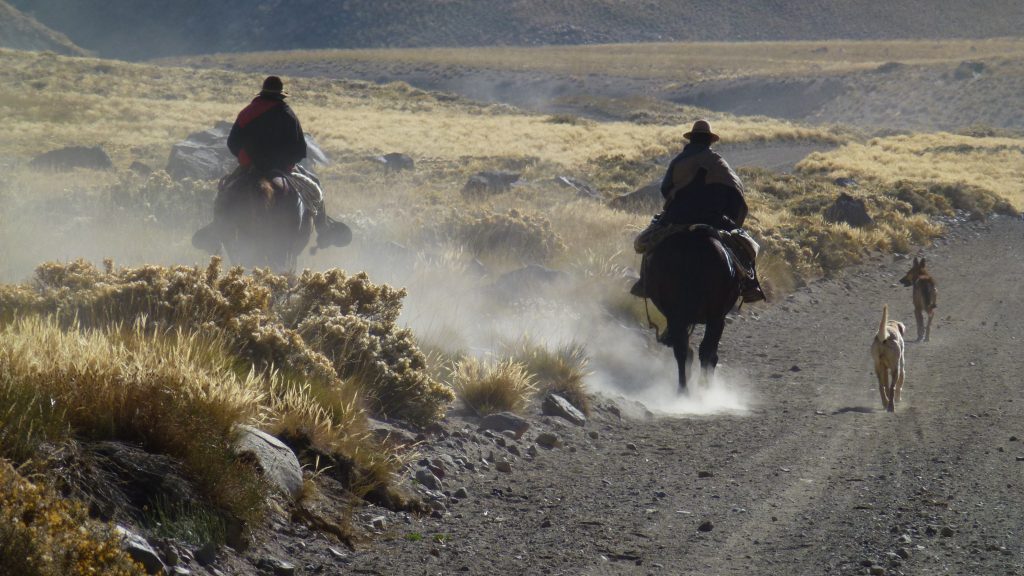 Day 8 – Hornopiren to Puerto Varas, Chile – 260km
Today's ride passes through National Park Hornopiren and follows the shoreline of these Pacific inlets to start things out. Across the fjord can be seen Parque Nacional Alerces/Andino near the Cochamo Valley, which many people call it the "Yosemite Valley" of Chile.
Pressing on to Ensenada on Lago Llanquihue on your way to Lago Todos los Santos, stop at Petrohue waterfalls and then a fantastic asphalt road (riding paradise) takes you up Volcano Osorno. At the base of the Ski resort there, you can enjoy a beautiful view over Lago Llanquihue before descending to the touristy town of Puerto Varas on the lake shore of Lago Llanquihue for the night.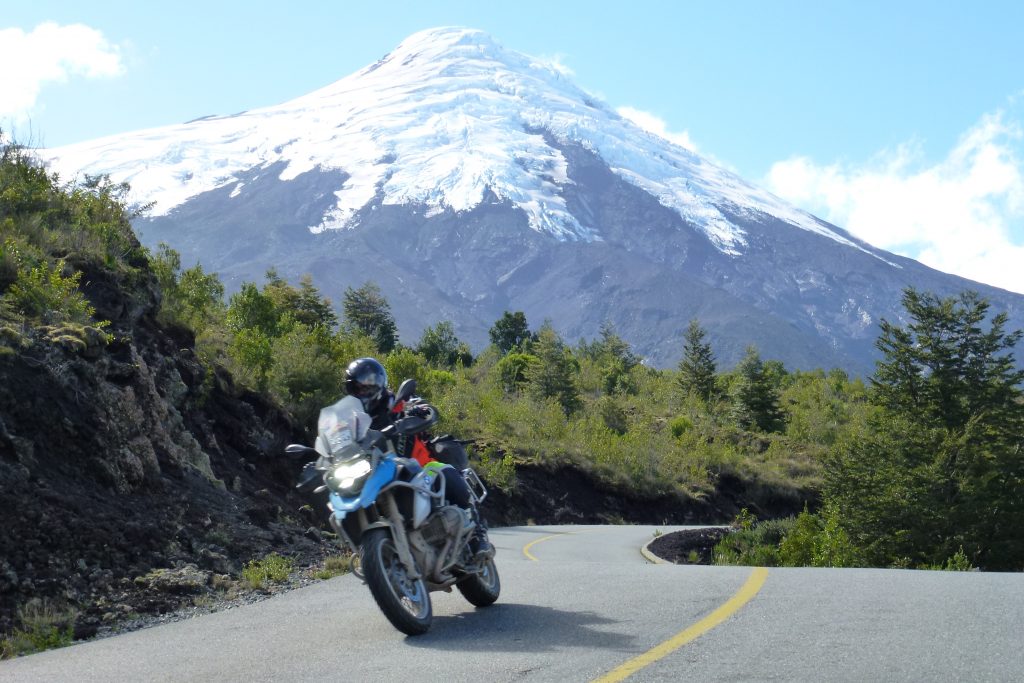 Day 9 – Puerto Varas to Pucón, Chile – 360km
Wake up with a fantastic view of Volcano Osorno across Lago Llanquihue! Following the lake through Frutillar (where many Germans settled in the late 1800's) and Puerto Octay, finally some moments can be spent on the Panamerican Highway.
On your way back to Pucón, follow the shoreline of Lago Panguipulli, Lago Neptune, Lago Calafquen and Lago Villarrica, where the Chilean Lake District holds such a simple and pleasant beauty. The ride down into Pucón might bring on a case of mixed emotions as you look back at the amazing trip through Northern Patagonia.
Just think: there's still more of Patagonia to be uncovered!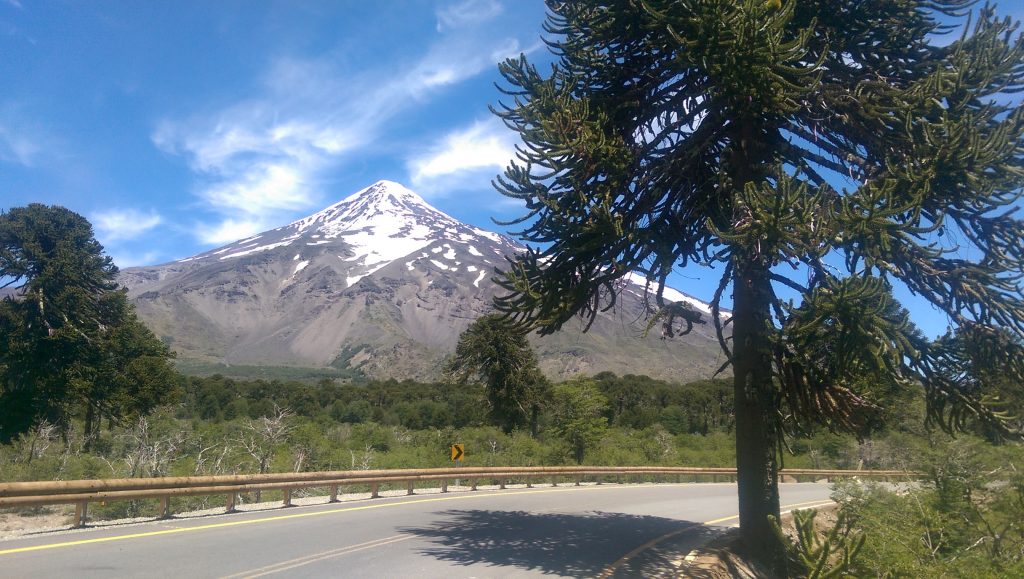 Day 10 – Breakfast, airport transfer, flight home
If you absolutely must leave on your last day, we do understand you'll be fighting the temptation to skip the flight. Chile has so much more to offer and we have so much more to help show you, so we hope you enjoyed yourself and will return for other Patagonia motorcycle trips, because there's still plenty more to experience!
---
Motorcycles avaibles for this tour
1 BMW R1250gs
2 BMW F850gs
3 BMW F750gs
4 Honda Africa Twin
5 Honda CB500X
1 BMW R1250gs
BMW R1250gs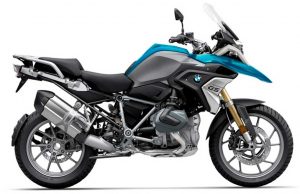 2 BMW F850gs
BMW F850gs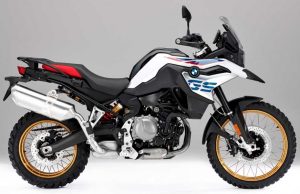 3 BMW F750gs
BMW F750gs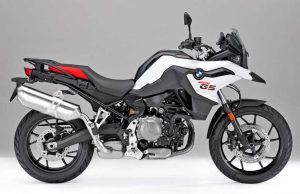 4 Honda Africa Twin
Honda Africa Twin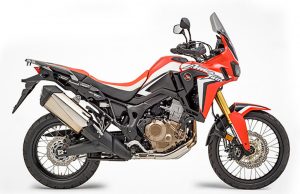 5 Honda CB500X
Honda CB500X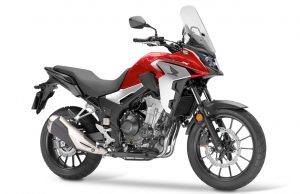 .
Other Similar Tours

---
---
Costumers Testimonials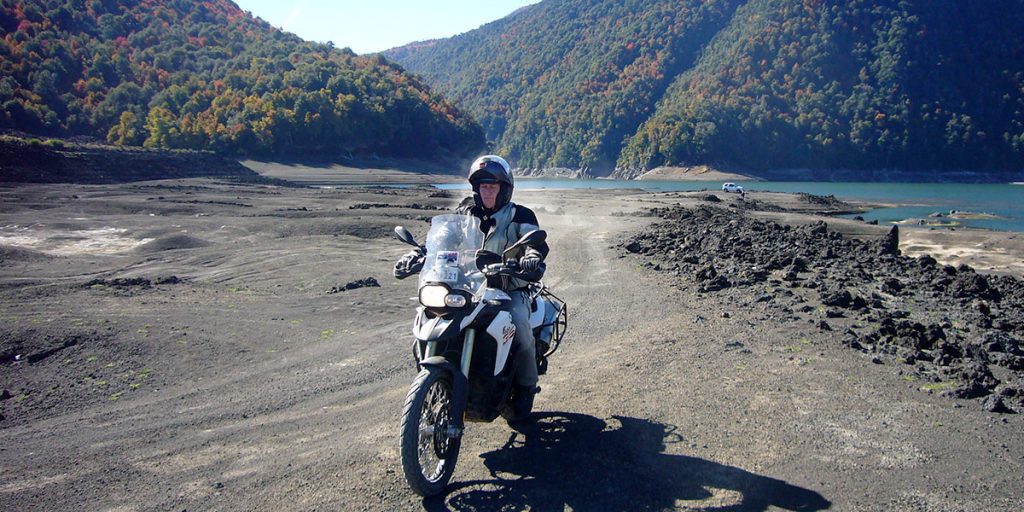 Peter North
Kik the bucket again! a great dream made true, Patagonia was eperience in a…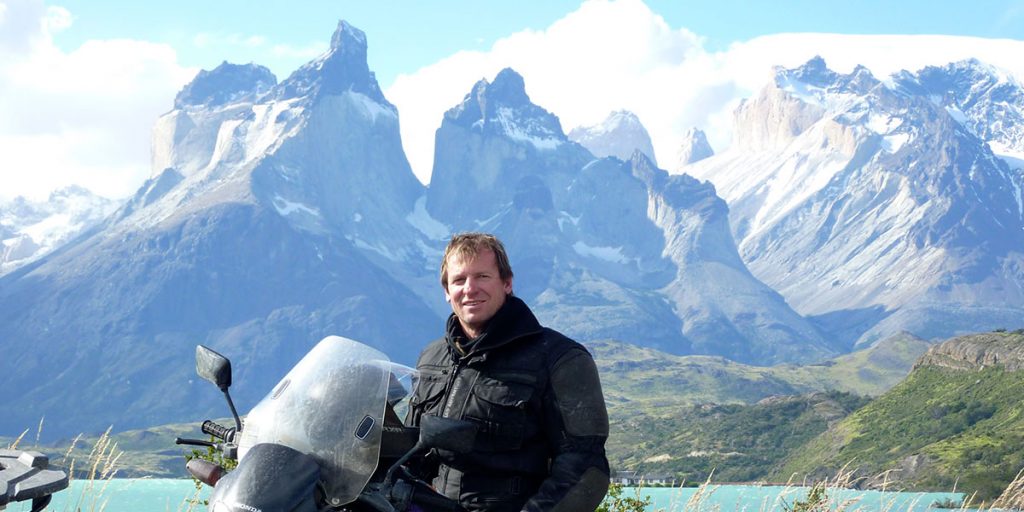 Pedro Enrriques
loved my bike! just got home and buy one of the same! thanks for…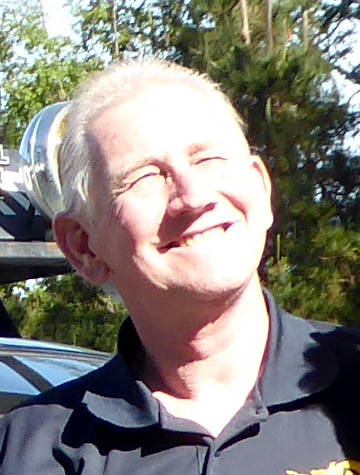 Carlos Perez
Fue el mejor servicio y puntual.