The Atacama Desert, the mountain of seven colors, the wine valley of Cafayate and the highest pass over the Andes mountains in one incredible ride.
Next Tour / Or any time that you want on our Self Guided Sistem Ride+Rest
Avaibale as
Ideal for
TWOup
Asphalt/Gravel%

Self guided
recomended
-Tour
-Ride+Rest
-Rental
-4×4
YES
90 / 10%
YES
Best season
Number
of days
Countries
included
Rider Skill
May
to
September
12
Chile
Argentina
Medium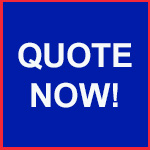 Full Tour Included
Pricing
Full Tour Included
North Argentina & Chile
Full Tour Base Pricing US$xxx
Self Guided Tour Base Pricing US$xxx
*on Honda CB500X
.
Tour Includes:
+Motorcycle rent with unlimited kilometers
+Accommodations in nice 3-4 star hotels/guest houses
+All breakfast and 2 x dinner
+Support vehicle with bilingual guide/driver
+Basic mechanic service by guide/driver
+Tools, tire repair kit, spare parts
+Satellite phone in support vehicle
+All bikes with basic crash protection
+Tank bag and/or pannier
+International liability insurance
+All border crossing documents if needed
+Specified RoadBook and map
.
Also avaible as Ride+Rest
(Self Guided, Road Book, all Hotels Pre-Paid,
and Technicall Support over the Phone)
Pricing
Select the Motorcycle of your preference.
All our bikes came equiped and ready for the routes with no limit of Kilometers/Miles
| | | |
| --- | --- | --- |
| Motorcycle Choice | Guided Tour us$ | Self Guided Ride+Rest us$ |
| CB500x | $xxxx | $xxxx |
| BMW f750GS | $xxxx | $xxxx |
| BMW f850GS | $xxxx | $xxxx |
| Honda Africa Twin | $xxxx | $xxxx |
| BMW R1250GS | $xxxx | $xxxx |
| Pillion (passanger) | $xxxx | $xxxx |
| Extra for Single Room | $xxxx | $xxxx |
| Full Truck | $xxxx | $xxxx |
*the bike of your preference have to be confirmed via email

**Limited disponibility of bikes per model. 

(check our rental page for motorcycle equipment)
Day 1- Arrive to Antofagasta
Enjoy the capital of Chile while you arrive in Santiago.
We like to welcome you in Antofagasta
For our Tours, riders have to be in Antofagasta the night before because we depart early next morning and of course you don't want to miss our information meeting and welcome dinner.
For riders with our Self Guided Tour System, Moto-Rest, your hotel is included in the package, enjoy your room, rest and call us to coordinate your bike pick up.
Your intra-Chile flights can be booked through www.latam.com or www.skyairline.cl or www.jetsmart.com
Santiago airport (SCL)
Antofagasta airport (ANF)
Day 2- Antofagsata to San Pedro de Atacama
After the bike is set up for your liking and the various equipment you may brought from home are mounted, we inform you about the road conditions and highlights of our first day. When everybody feel comfortable we are leaving beautiful seaside town of Antofagasta.
After the bike is set up for your liking and the various equipment you may brought from home are mounted, we inform you about the road conditions and highlights of our first day. When everybody feel comfortable we are leaving beautiful seaside town of Antofagasta.
This is the driest Desert of the world. The land scape is bar of green and the dessert shows all kinds of shades of orange and brown.
We crossing the "Cordillera de la Sal" passing some salt mine operations and stop in Toconao, an Oasis in the middle of the Desert.
Of course there is a comfortable asphalt road to the dessert town of San Pedro de Atacama, but we like to show you how it is to ride on a salt road. The dirt is mixed with salt and wonderful to ride.
Arriving in San Pedro de Atacama we find our hotel and enjoy a stroll through town and a delicious dinner in one of the many restaurants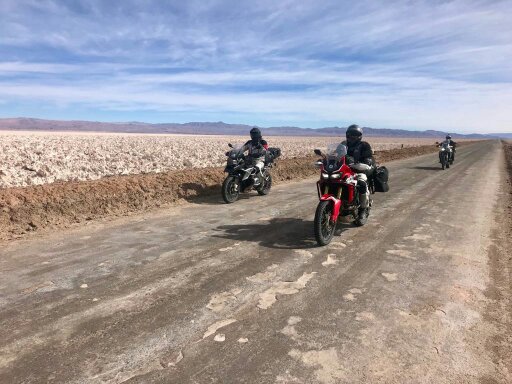 Day 3- San Pedro de Atacama (rest/exploration day)
We are at 2500 m above sea level and our body needs time to adjust. Today is a good day to explore the salt lakes with the colorful Flamingos. Ride Valle de la Muerto, relax in some hot springs nearby or check out the A.L.M.A Observatory.
Close to sun set visit the Valle de Luna. With the soft light of the sun going down the Valley is glowing and becomes surreal. The bizarre dune formation with the white tips look like frozen in time. You think, snow in the dessert? The white on top of the dunes and on the road is salt.
Back in San Pedro prepare for another relaxed night in town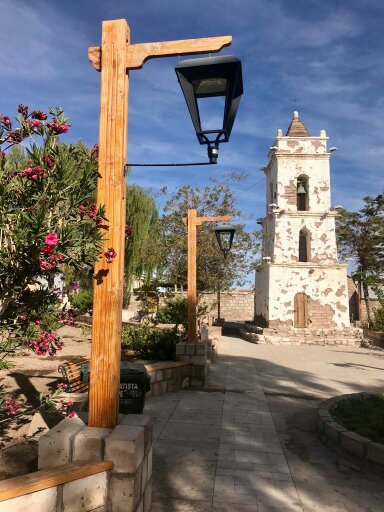 Day 4- San Pedro de Atacama to Purmamarca
Start early there is a border crossing to Argentinian to take in account. The asphalt road has one switch back after the other. It reminds us of roads in the Alps in Europe. Higher and higher lead us the road until we reach Passo Jama at 4230 m and all the time we are looking at the huge Volcano Licancabur at 5858m.
After the border to Argentina we cross a huge salt lake the sun reflex in the salt lake almost too bright to look at. Above us the incredible blue sky of the Desert. This sky is unique, it is heaven!
Wildlife! Guanacos crossing the road or see them grazing next to it. Flamingos stand calmly in the water at the many salt lakes. The huge birds are Condors and if you look closely there are foxes around too.
And the highlights of this day do not end here. Entering Purmarmarca the city of the seven color mountains awaits with a colorful sunset.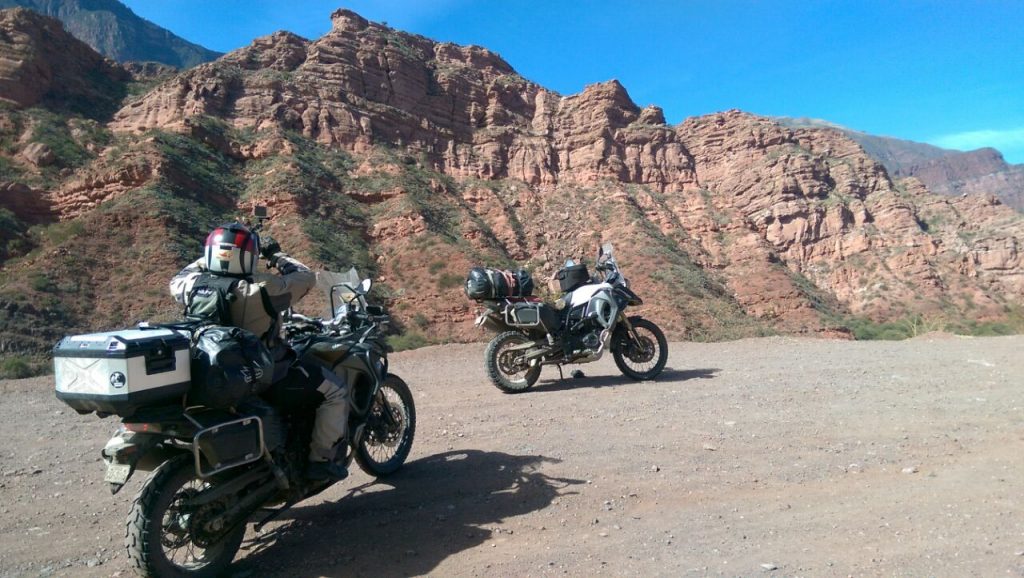 Day 5- Purmamamrca to Salta (visit seven colors mountain
If you misted to take photos yesterday evening from these colorful mountains, try early this morning again.
From the Desert to the Jungle the narrow road guides you with lots of twisties up the mountain. We call this "The tail of the Lama", enjoy and yes, why not, ride it again.
Arriving in Salta early is a good idea. On the program we suggest a dinner show with good food and a folklore show with traditional dances and songs. It is a very fun evening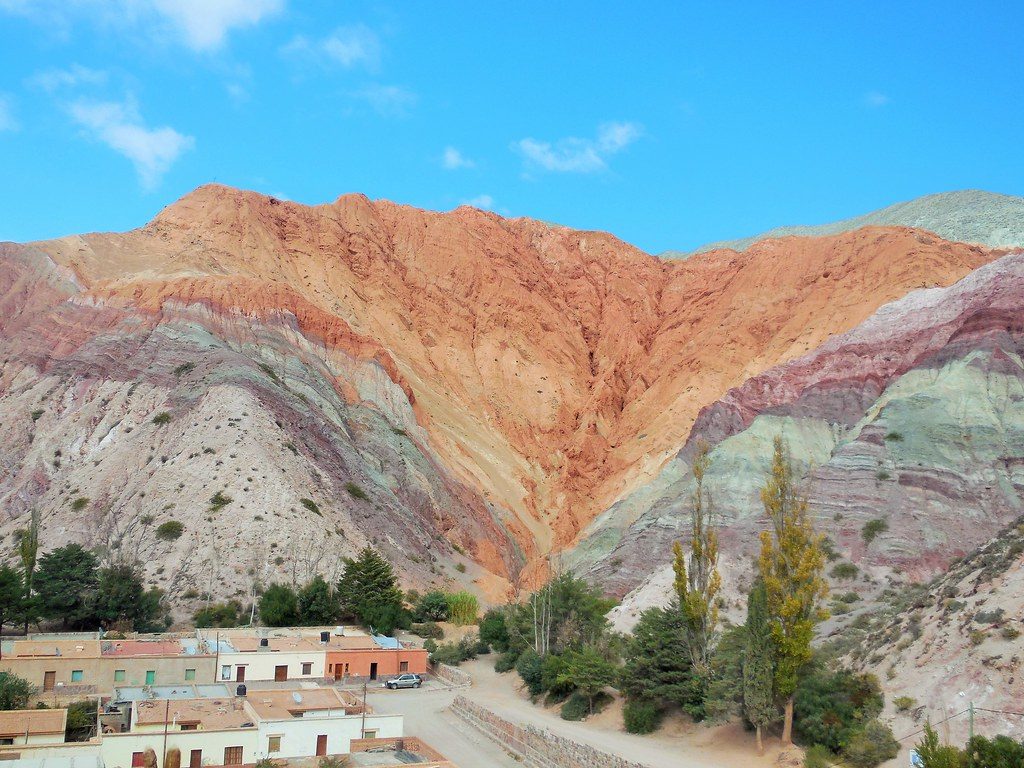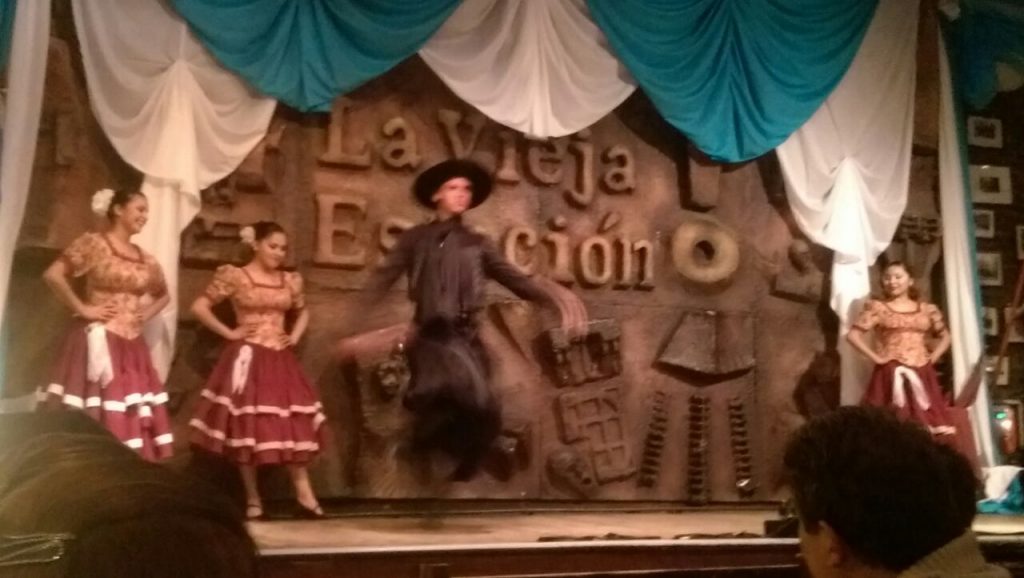 Day 6- Salta to San Miguel de Tucuman
We are heading to the town San Miguel de Tucuman and getting a real vibe of Argentinian culture and the way they live.
Most important, make sure to enjoy every turn on the road and the incredible vegetation of this area. The green after the desert and the mountains full of twisty roads.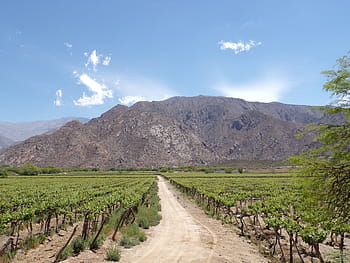 Day 7- San Miguel de Tucuman to Cafayate
Before us stretches the wine fields and we thing back to our fun evening with good food, wine and music in Salta. Take a detour to the road –Qda de las Conchas and visit the famous monuments Garganta del Diablo, El Anfiteatro and the La Ventanas. These unique rock formations lie in a red Desert. Wind and water formed these rocks over the centuries.. Minerals dye the rocks in all shades of red.
Cafayate is a small cozy town in the wine fields, with a great little Plaza to hang our and enjoy dinner.
Day 8- Cafayate to Cachi (alternative visit S.A. de los Cobres)
If you didn´t rode to the Qda de las Conchas yesterday, try this today, it is worth a ride.
You have seen so far the orange colors of the Atacama, the mixed colors of Purmarmarca and the red of the Conchas
Today we go grey. 50 shades of gray, start counting. The dirt road or "ripio" like we call these roads leads us through a narrow valley. Last time we been there we saw an open barn with goats. Impressive the white of the goats in all this gray.
Stop at the many churches along the road.
You arrive in Cachi another picturesque town. The many restaurants provide a nice dinner and since you are in the wine country, try one of the many good wines.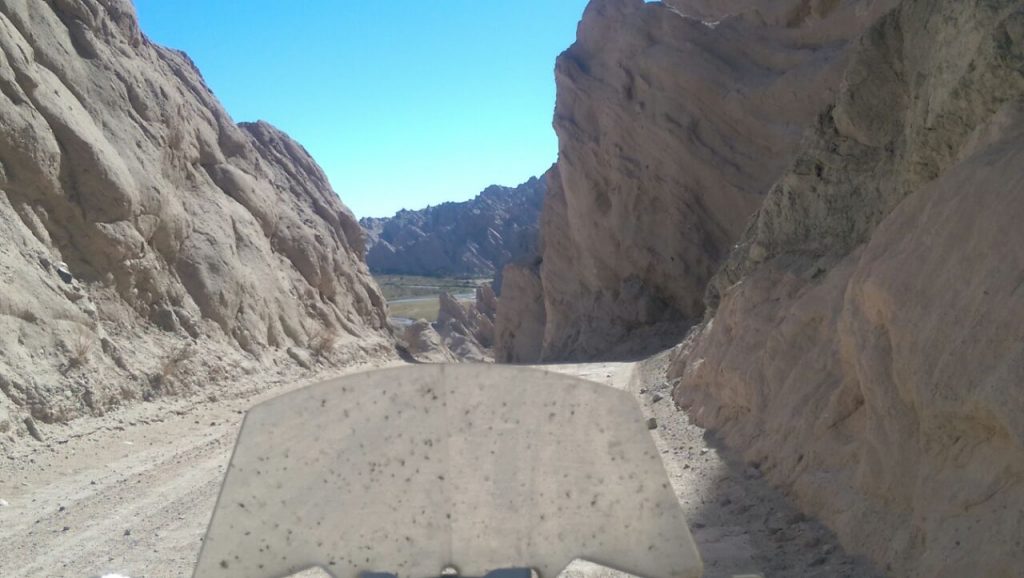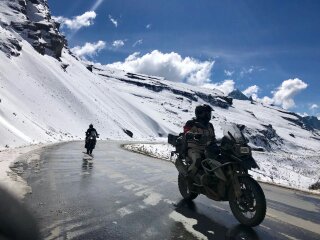 Day 9- Cachi to Purmamarca
Start early, this is a long day. The mix of ripio and asphalt makes this trip one of the most interesting ones. All ripio fans have a big smile on their faces when they accomplish this ride.
Lots of twisties, narrow switch backs and a grand scenery. By the end of the day you know what you did today.
You will arrive back in Salta by lunch time and you decide if you like to ride "The Tail of the Lama" again or continue the main road to Purmarmarca

Day 10- Purmamarca to San Pedro de Atacama
Back to Chile today. Enjoy the endless switch backs leading to Paso Jama. Your think "I done this before", yes but it looks and feels very different riding the opposite direction.
Pass through the "Reserva los Flamingos" and at one point you have an incredible view from high above over San Pedro de Atacama. What a ride today.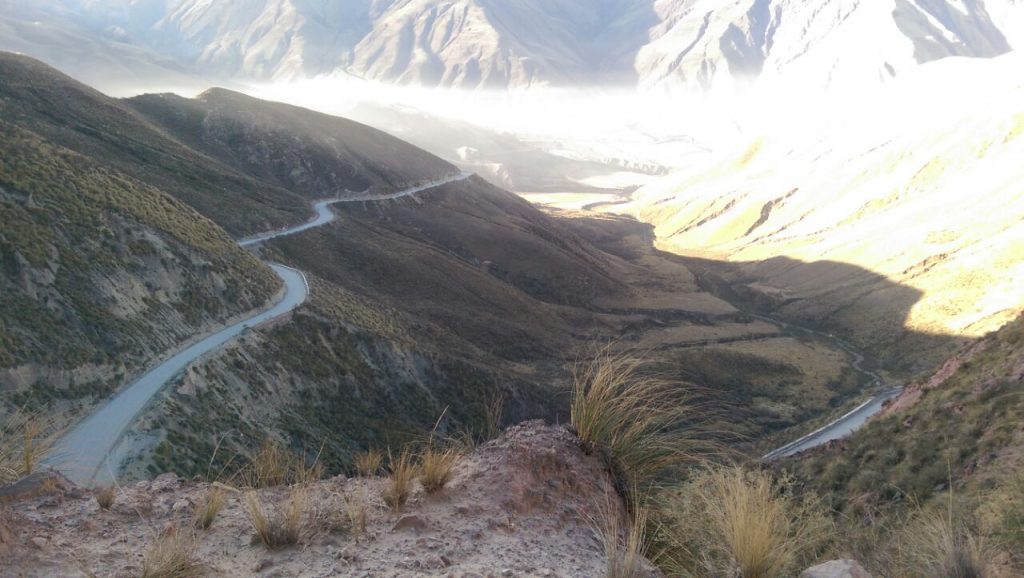 Day 11- San Pedro de Atacama toAntofagsata
Whatever you like to explore, today we have time to do it. When you are ready ride to Calama. Visit the largest open pit cobber mine in the world.
Or ride to the coast, to Tocopilla and enjoy riding along the ocean until Antofagasta. Right before you reach Antofagasta there is another Monument. The Monument "La Portada", an Arch close to the beach where the waves press through the rock.
One of the famous dishes in Antofagasta is the grilled Octopus. Have a wonderful time in one of the splendid restaurants in Antofagasta.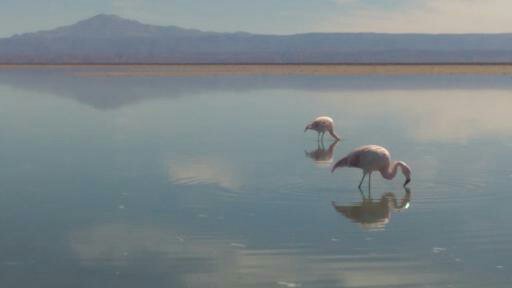 Day 12- Departure
Your vacation comes to an end but we promise but not the adventures Chile has to offer. Come back to see and ride another part of this diversity country.
---
Motorcycles avaibles for this tour
1 BMW R1250gs
2 BMW F850gs
3 BMW F750gs
4 Honda Africa Twin
5 Honda CB500X
1 BMW R1250gs
BMW R1250gs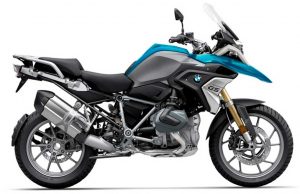 2 BMW F850gs
BMW F850gs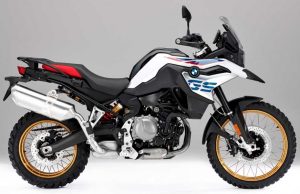 3 BMW F750gs
BMW F750gs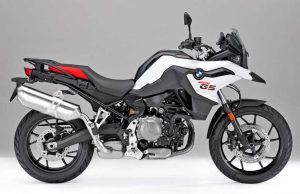 4 Honda Africa Twin
Honda Africa Twin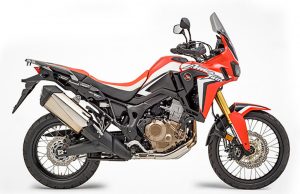 5 Honda CB500X
Honda CB500X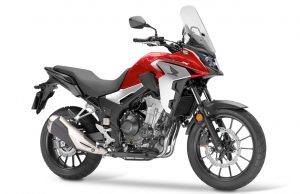 .
Other Similar Tours

---
---
Costumers Testimonials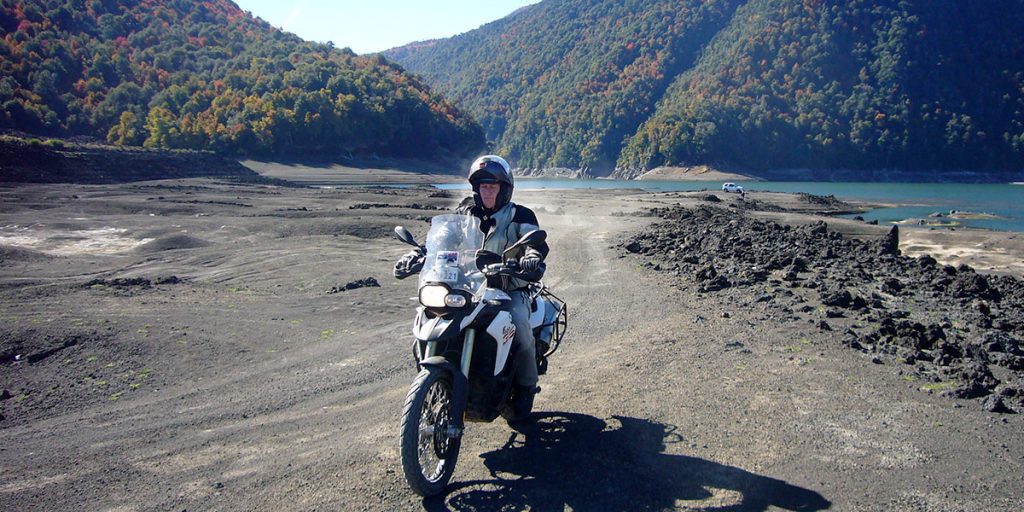 Peter North
Kik the bucket again! a great dream made true, Patagonia was eperience in a…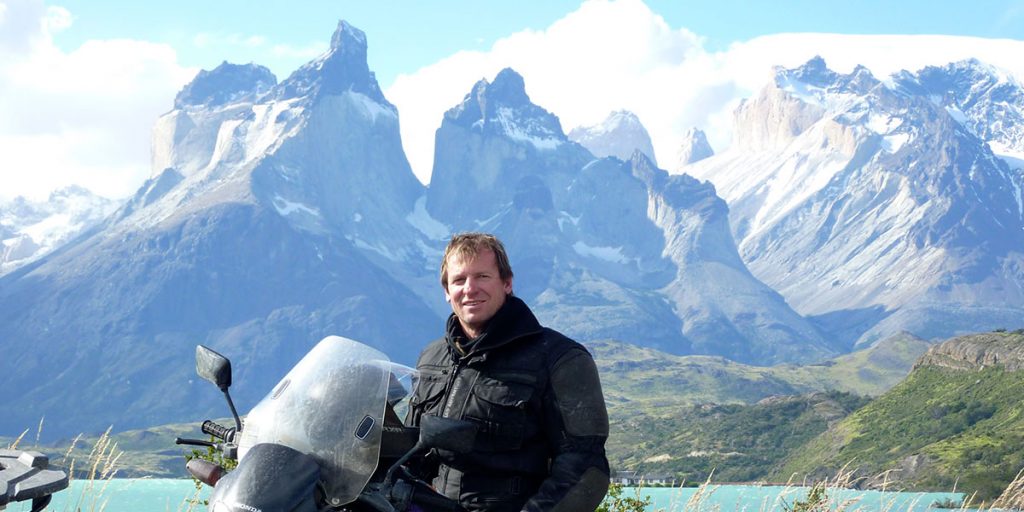 Pedro Enrriques
loved my bike! just got home and buy one of the same! thanks for…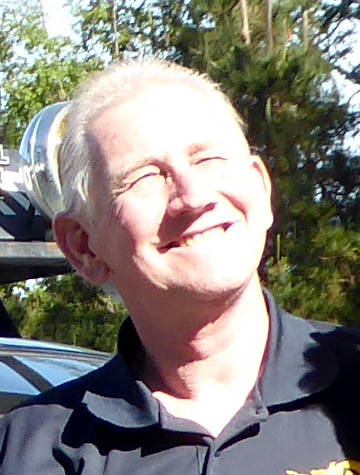 Carlos Perez
Fue el mejor servicio y puntual.